I live in Los Angeles, California. I live about ten minutes away from Hollywood. Sometimes, I do my Marilyn Monroe impersonation in front of Mann's Chinese Theater. I have been a legal secretary for five years. I really enjoy my work.
I have two cats: Fluff, and Marion.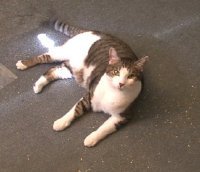 I also have two birds. ne is blue and named Sky and the other one is white and named Snowball. I am also with the most wonderful man in the world, his name is Daniel. I entered a Marilyn Monroe look a like contest last year on August 5, 2002 the 40th anniversary of Marilyn's death. I received a special prize for my performance. It was fun and I made a lot of new friends all over the world. Feel free to make any comments in the guest book and I hope you enjoy the pictures. Sa La Ve!